Subalpine Tees has released a new shirt that is sure to please nature enthusiasts everywhere. This innovative shirt features real pine cones from trees native to the Pacific Northwest, including Shore Pine, Western White Pine, Subalpine Fir, Pacific Silver Fir, Grand Fir, Sitka Spruce, Mountain Hemlock, Western Hemlock, Douglas Fir, Western Red Cedar, and Alaska Yellow Cedar.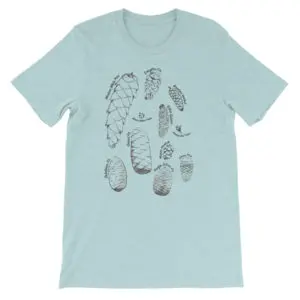 Each of these trees is known for its unique qualities and contributions to the Pacific Northwest ecosystem. The Shore Pine, for example, is a resilient tree that thrives in coastal environments, while the Western White Pine is a towering species that can reach heights of up to 200 feet. The Sitka Spruce, which is one of the most abundant trees in the region, is known for its durable wood, which has been used for centuries in shipbuilding.
Subalpine Tees has incorporated pine cones from each of these trees into their new shirt, creating a unique and beautiful design that pays homage to the natural wonders of the Pacific Northwest. The shirt is made from a blend of organic cotton and recycled polyester, which makes it soft and comfortable to wear.
The shirt's design features a mix of different pine cones, arranged in an aesthetically pleasing pattern. Each cone is carefully selected and arranged by hand, ensuring that each shirt is unique. The design is subtle and understated, allowing the natural beauty of the pine cones to shine through.
One of the standout features of this shirt is its comfort. The cotton and polyester blend used in its construction is incredibly soft, and the shirt is perfect for wearing in any season. The inclusion of real pine cones does not compromise the shirt's comfort, as they are carefully placed in a way that does not cause discomfort or irritation.
Overall, Subalpine Tees' new pine cone shirt is an excellent addition to any wardrobe. Its unique design, high-quality materials, and commitment to sustainability make it an excellent choice for anyone who values comfort, style, and the natural beauty of the Pacific Northwest. Whether you're a nature enthusiast or just looking for a comfortable and stylish shirt, this new release from Subalpine Tees is sure to please.